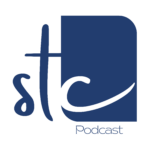 Success Through Community Podcast
A Podcast for women, by women. Women who are looking to support each other's individual success – through community.
Through the STC Podcast, we are providing listeners with a chance to learn the stories behind other women in business. Speaking to female solopreneurs and talking through their successes, struggles, and celebrations. We've all heard it takes a village to raise a child, we believe this is also true to build a successful business.
Our hope is to help listeners build their community, grow their businesses, and go from overwhelmed to empowered through authentic connection!
Listen wherever you get your podcasts!
Season 2 Announcement: Community Exchange
---
Kat Marie: Just get it done and put it out there.
---
Sandra Colton-Medici: Negotiate your energy and your time to work for you.
---
Heather Boddy: Without community support, my business wouldn't exist.
---
Lori Baker: You have to have the passion to connect.
---
Erin McAndrew: It would be boring if we were just successful overnight.
---
---
---
---
---
---
Newsletter
Subscribe to Never Miss an Episode